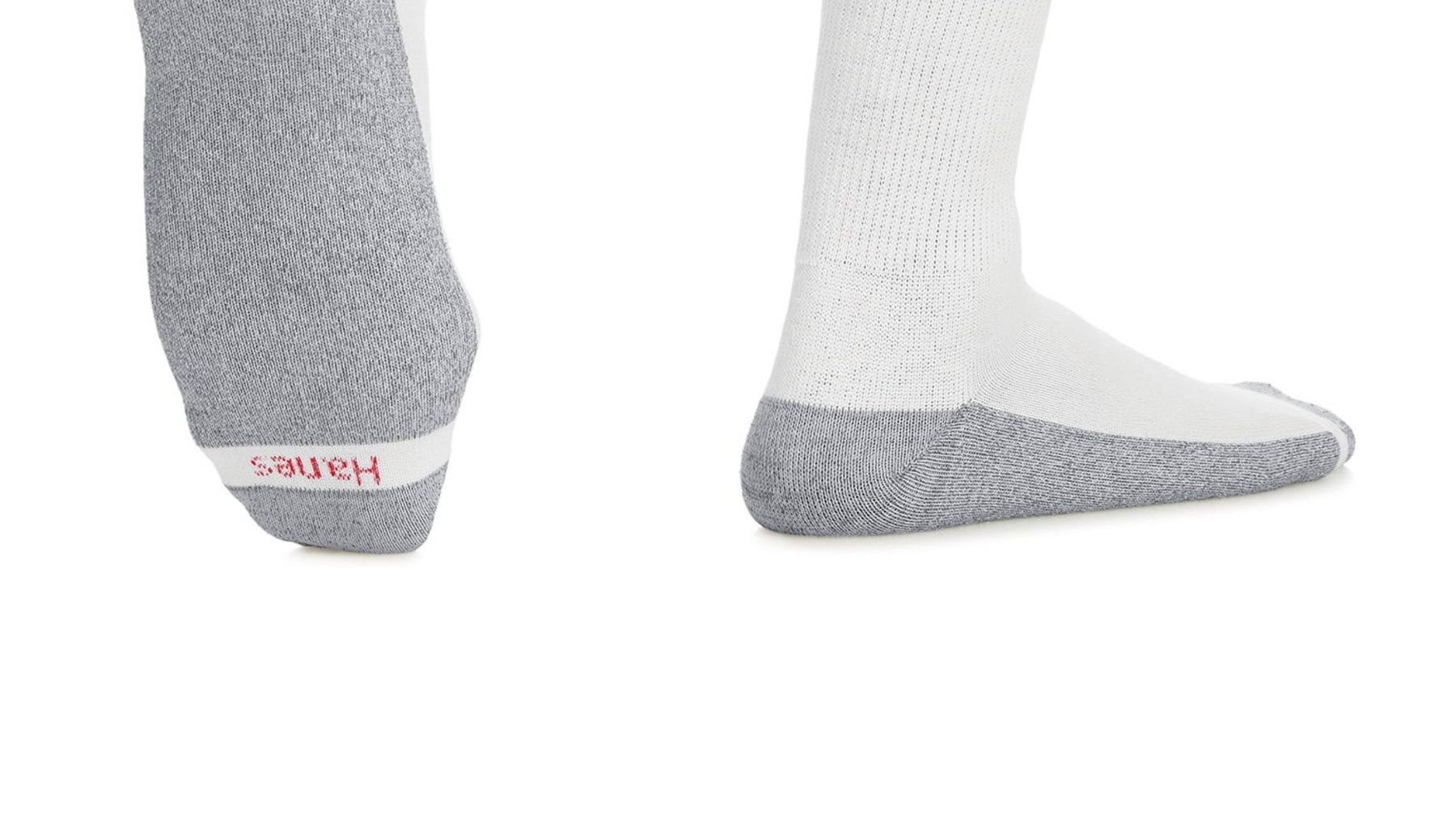 Hanes Crew Socks Review | Expert Socks Guides
Hanes Crew Socks Review - An In-depth Look
You've embarked on the quest for the ideal socks, and Hanes Crew Socks have captured your attention. Do they live up to the hype?
Dive into this detailed review as we delve into their comfort, durability, and other attributes. We'll also contrast them against other brands, so you have a holistic view.
Ready to see if these socks check your boxes? Continue reading to discover what sets Hanes Crew Socks apart.
Main Insights
Hanes crew socks, known for their distinctive design, are crafted from a material that's a tad thinner, making them especially suitable for wearing with sneakers or casual shoes during the warmer periods.

Many attest to the comfort and great value these socks offer. Customers continuously commend these socks, emphasizing their exceptional feel and affordability.

The pair is meticulously designed to keep feet dry and provide optimum comfort owing to its lightweight material. Some, however, feel that the socks could be thicker.

A highlight is the socks' adept moisture-wicking capability, making them a favored choice for many, offering the arch support required for extended wearing time.
Assessing Sock Quality and Comfort
Hanes Crew Socks are frequently reviewed for their quality and comfort. This review segment sheds light on their material, durability, and the comfort level they offer.
When you adorn a pair of these socks, the material's feel is immediate. It's slightly thinner than some might anticipate – a feature many appreciate during times when feet need ventilation. They comfortably nestle into shoes, ensuring you remain comfortable for long durations.
Durability remains pivotal in sock reviews. Hanes Crew Socks boast reinforced sections and ingenious ventilation zones. Such design nuances extend their lifespan, ensuring you get great value over time. Misplacing one during laundry isn't a concern; they're straightforward to pair after drying.
Comfort remains paramount. Reviews often allude to the great feeling of wearing these socks. They aren't just comfortable but also offer arch support – invaluable during those longer days.
It's worth noting, however, that they may not be the best choice for boots due to their thinner fabric. Their current thinness also raises some eyebrows, with concerns about their durability over time.
Customer Voices
A large segment of the user base highly recommends Hanes Crew Socks. Most consumers adore them, labeling the pack as offering remarkable value. The comfort and durability of each pair don't go unnoticed.
Long-term customers of Hanes crew socks remain loyal, buying them consistently over the years. Many praise the material's lightness, which makes them ideal for hotter days. Additionally, the socks' fit and moisture-wicking capabilities reflect Hanes' commitment to producing quality products.
Another advantage highlighted is the convenience of these socks coming in a pack, allowing users to have a fresh pair daily. Many view these socks as an excellent gift choice, always received with appreciation.
Yet, some feel the socks are thinner than past iterations. However, even these customers return, finding them still comfortable and durable.
Delightful Customer Experiences
The pleasure derived from Hanes Crew Socks is extensive, as many customer reviews indicate. These socks consistently offer the arch support crucial for extended wear times. Their design keeps feet cozy and well-supported, irrespective of daily activities.
Users frequently praise how these socks conform perfectly to their foot arch. This support is transformative, particularly for those who stand a lot. It's comforting to know that your feet receive such care even after tiring days.
Next, the socks' durability draws acclaim. While light and airy, they are long-lasting. Many have observed their enduring nature, maintaining their form and support even after repeated washes. This durability ensures great value over time.
Comfort remains a standout feature. The moisture-wicking properties ensure dry, happy feet. Wearing these socks feels almost indulgent – who wouldn't want such pampering?
Whether you prioritize arch support, durability, or comfort, Hanes Crew Socks deliver. They're a worthy addition to your sock collection, and it's evident why numerous users share glowing experiences.
Why not experience them firsthand? They might soon become your preferred pair.
Embracing Thinner Fabric and Ventilation
The thinness of Hanes Crew Socks may initially raise eyebrows, but its benefits soon become apparent. This design choice promotes enhanced ventilation, ensuring feet remain cool and comfortable, especially during activities where overheating is a concern. Unlike thicker socks that may feel tight, Hanes Crew Socks allow your feet space to breathe and rest, ensuring maximum comfort.
This design choice is particularly beneficial in warmer regions or during summertime. Regardless of your activity level, Hanes Crew Socks ensure dry and cool feet, thanks to their superior ventilation.
The black color of these socks also brings a touch of elegance and versatility. This makes them apt for a range of footwear and occasions.
Diverse Reviews and Comparisons
There's a gamut of reviews when contrasting the current Hanes Crew Socks version against older ones. Some users perceive a decline in quality, albeit slight. The consensus is that the newer socks are more breathable, a change that resonates positively with most.
A few, however, feel the socks are longer, which might impact comfort if you were accustomed to the previous cut. Nonetheless, many appreciate the sock's grip and its anti-slip nature during everyday use.
A few neutral reviews exist, with some deeming the socks as satisfactory. The changes in design or fabric could account for this, or simply individual preferences.
To encapsulate, the current Hanes Crew Socks elicit diverse opinions when juxtaposed against prior versions. While some changes have been lauded, others haven't struck the right chord. Everyone's feet are unique, so the best gauge is personal experience.
FAQs
What Comprises the Hanes Crew Socks?
Typically, they're a blend of cotton, polyester, and other fibers.
How Does Hanes Crew Socks' Length Compare to Other Brands?
They tend to be slightly longer, ensuring they stay put.
Are Hanes Crew Socks Machine-Friendly?
Absolutely. They're crafted to retain their shape post-wash.
Do They Come in Varied Colors or Patterns?
Yes, offering you an array of styles to choose from.
Are They Suitable for Athletic Endeavors?
Certainly, but their thinner nature might reduce their lifespan in such contexts.
Conclusion
Hanes Crew Socks, given their myriad benefits, could well be your next sock purchase. They offer a blend of comfort, ventilation, and moisture management. While opinions vary, the majority underscore their quality.
Ultimately, the best sock aligns with personal preferences. Thus, consider the insights shared, and perhaps, Hanes Crew Socks might be your next favorite pair.